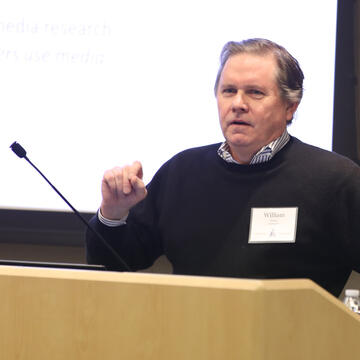 William Feltus
Adjunct Faculty
Biography
Senior Vice President, National Media Research
William Feltus is senior vice president at National Media Research, Planning and Placement LLC, an advertising and media company in Alexandria, Va., where he managed media research and planning for the 2004 Bush-Cheney and the 2008 Mitt Romney presidential campaigns.
He is recognized as an innovator in the application of syndicated consumer research to political and public affairs marketing. He managed the Washington office of Republican pollster Robert Teeter after graduating from Harvard Graduate School of Business Administration and Yale College. He then served as national communications director for the Bush-Quayle campaign and as staff director of the Republican Conference of the United States Senate.
Education
MBA, Harvard Graduate School of Business Administration
BA, Yale University
Selected Publications
Feltus, W., Goldstein, K., & Dalleck, M. (Eds.). (2017). Inside Campaigns: Elections through the Eyes of Political Professionals. Thousand Oaks, CA: CQ Press.

Ridout, T., Franz, M., Goldstein, K., & Feltus, W. (2012). Separation by Television Program: Understanding the Targeting of Political Advertising in Presidential Elections. Political Communication, 29(1), 1-23.