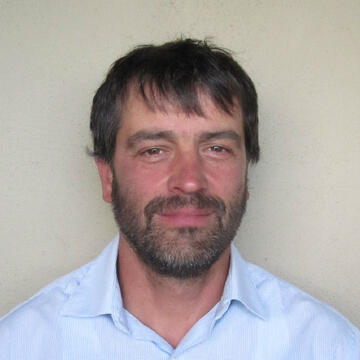 Harney Science Center 107C
Biography
Tom Böttger is from Berlin, Germany and is first and foremost a teacher. He enjoys teaching the large introductory physics courses as well as hands-on courses like Electronics and Digital Electronics.
In his research he studies optical, dynamical, and magnetic properties of solids, specifically optical materials doped with rare earth ions. This work is centered on understanding the fundamental material physics at the microscopic scale, but also geared towards the development of optical materials for optical signal processing and quantum computing applications. It's carried out using a variety of linear and nonlinear optical methods, such as stimulated photon echoes, spectral holeburning, time-resolved spectroscopy, and more conventional methods such as optical absorption spectroscopy.
Tom is also interested in laser development. He has built external cavity diode lasers and worked on the technique of stabilizing their frequency to the narrow optical resonances found in rare-earth-doped materials. By locking the laser frequency to an ultra-narrow spectral hole, experiments have reached the limits of precision in the optical spectroscopy of solids.
In his spare time you can find Tom windfoiling on San Francisco Bay and exploring the American West with his fly rod, kayak, and camera.
Research Areas
High resolution spectroscopy of rare-earth doped materials
Erbium doped materials
Laser frequency stabilization
External Cavity Diode Lasers
Education
Montana State University, PhD in Physics, 2002
Montana State University, MS in Physics, 1999
Humboldt University, Germany, Diploma in Physics, 1996
University of Kent, England, University Diploma in Physics, 1993
Selected Publications
If interested please download CV