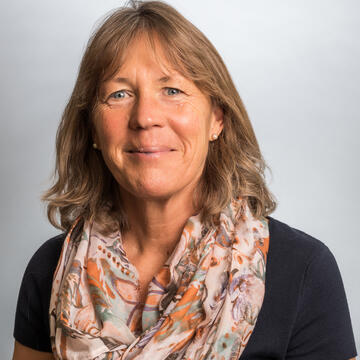 Octavia Mandel Struve, RN, MSN, DNP, CNL, WCC, OMS
Program Director, Associate Professor, Emergency Medical Technician (EMT) Program
Biography
Octavia Mandel Struve, RN, MSN, DNP, CNL, WCC, OMS is an assistant professor at University of San Francisco (USF) in the School of Nursing and Health Professions, where she is the program director, clinical coordinator and primary instructor for the Emergency Medical Technician (EMT) Program. Additionally, she is the faculty advisor for the on-campus Emergency Medical Response Service (EMRS) while managing the campus and community training for CPR and First Aid, Safesitter and Stop the Bleed. She has been with the University for over 15 years, teaching and directing in nursing and health professions, at the undergraduate and graduate levels.
Dr. Struve has been a registered nurse for more than 35 years. During her first 10 years in the nursing profession, she worked in an array of intensive care unit settings, including heart and lung transplantation. She has also worked in perioperative care, public health, palliative care and most recently, wound and ostomy care. She has always maintained a strong passion for patient-centered care and being at the bedside. She is a San Francisco Native, a proud mom of two wonderful daughters, and enjoys attending yoga to center her mind, body, and soul to best serve those around her.
Education
Doctor of Nursing Practice (DNP), University of San Francisco
Master of Science in Nursing (MSN), University of San Francisco
Bachelor of Science in Nursing (BSN), University of San Francisco
Nursing, University of Hawaii at Manoa
Additional Information
Licensure and Certifications
Registered Nurse, California
Wound Care Certification
Clinical Nurse Leader
Public Health Certification
Special Projects, Awards, Memberships
USF EMT Training Program Clinical Director and Program Co Director (current)
TeamSTEPPS Master Trainer with simulation (current)
USF Emergency Medical Response Service Faculty Advisor and project design and implementation faculty (current)
Quality and Safety Education in Nursing (QSEN) team member and presenter
Campus Resilience Enhancement System (CaRES) campus service area assessment participant for SON&HP and USFEMRs (current)
USF-UCSF Initiative project coordinator and implementer, UCSF Council for
Partnerships CoChair, USF Team Leader for all USF-UCSF Initiative Practicum sections (6)
End of Life Nursing Education Consortium (ELNEC) participant and member
Clinical Nurse Leader Association (CNLA) member #404060 (current)
USF Simulation Committee Chair (past), CoChair (past) and member (current)
Joining Forces curriculum integration project leader (current)
Sigma Theta Tau Member (local, national and international) (current)
Transitioning Care at the Bedside (TCAB) faculty member and national participant
High fidelity human simulation task force, Chair (past), scenario and curriculum integration
Bay Area Simulation Coalition member with Level II simulation certification
Co-Chair USF SON Curriculum Committee (past), member (past)
California Institute for Nursing and Healthcare Improvement (CINHC) Faculty
National Wound Care Alliance member, APWCA (current)
University Committee member, Core Religion, Ethics and Philosophy (current)
USF Campus Security diabetic emergency inservice instructor
Development of a Teen Smart Card Program in collaboration with Shasta County Department of Public Health and Private Industry Council (2001)
Development of a Private School Family Health Program (2001) with Grant Application
Development and implementation of breastfeeding provider assessment survey, grant application and submission of article for publication (2001-02)
Development: Provider breastfeeding manual instructional tool (Shasta County DPH)
Shasta County Breastfeeding coalition; voting member Area I Perinatal (2002-2004)
Shasta County Kids Turn board member and facilitator (2000-2002)
Special Award Shasta County Breastfeeding Study
Special advancement for performance S.L.C. V.A.M.C.
A.H.A. Abstract (Hyperventilation predicts average daily B.P. in labile H.T.N.)
AIDS symposium: Nursing implications S.F.V.A.M.C.
Advancement for special performance (S.F.V.A.M.C.) Grand Rounds symposium on AIDS (S.F.V.A.M.C.)
Organization and implementation of hypertension detection program (Schlag Lock Co.).