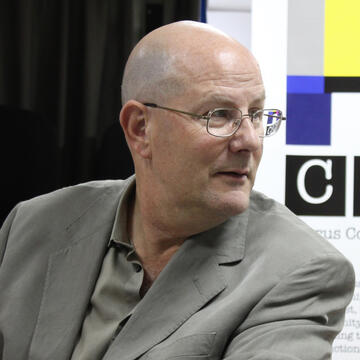 John Higgins
Adjunct Professor
Biography
Professor Higgins teaches courses involving storytelling, technologies, pop culture, grassroots alternative media, history, research, and production. For over three decades, he has been involved in commercial and community-based radio and TV and video, as well as the Internet and social media. He has served as the President of the non-profit organization managing the city and county of San Francisco's public access cable TV channels and facilities. His background includes thirty years as a professional puppeteer, with television and street performances.
Higgins has developed communication facilities and programs of study at colleges and universities in the U.S. and overseas. In 2010, he was a U.S. Fulbright Scholar in Cyprus, using digital storytelling, oral history, self-reflection, and community-based media for peace-building between Greek Cypriot and Turkish Cypriot communities. He continues peace-building and training projects with groups across the island, involving the US Embassy, the Cyprus Fulbright Commission, United Nations Development Programme, the Cyprus Community Media Centre, universities, and civil society organizations.
Professor Higgins holds a PhD in communication from Ohio State University and has served as an associate professor at USF and Menlo College in Atherton. His research interests include community-based, grassroots, "alternative" media, media production, communication technologies, critical and feminist pedagogies, digital storytelling, and oral history as art and social science.
Higgins currently serves as the President of the USF Faculty Association-Part Time, the union representing over 1000 part-time faculty at the University of San Francisco.
Education
PhD, Communications, Ohio State University