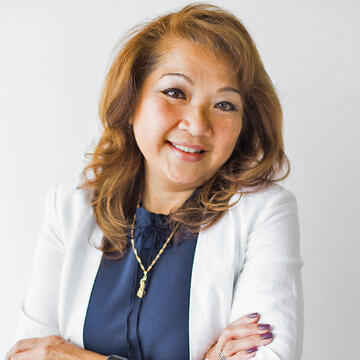 Helen Nguyen
Associate Professor; Program Director, Master's Entry MSN
Biography
Helen Nguyen, DNP, NNP, CNL, CPN is an associate professor at University of San Francisco (USF) in the School of Nursing and Health Professions, where she teaches Pediatrics Nursing theory, clinical, and simulation to graduate students. She has been a neonatal critical care registered nurse for more than 33 years. She is currently working in the Neonatal Intensive Care Units (NICU) at UCSF Benioff Children's Hospital Oakland as an Advanced Practice Nurse.
Dr. Nguyen has been teaching at USF since 2006; she was a part time clinical instructor for one year and was promoted to an assistant professor position and Master Entry-MSN Program Director after she was awarded her doctorate degree in nursing practice in 2011. Subsequently, she was promoted to associate professor in 2016. For her leadership experience, she was elected and served as the Vice Chair of Master of Science in Nursing (MSN) Program in 2014, then Department Chair for two years from 2016 to 2018. For services to the university, Dr. Nguyen has served as the Chair of the Academic Standards Committee in her school for two years, currently serving as a member of the Program Evaluation Committee, member of the SEARCH committee for two cycles, and a committee member of a university-wide Children and Youth committee for four years.
Dr. Nguyen received an associate degree in business administration at University of California in Berkeley, a bachelor's degree in nursing at Samuel Merit University and a master's degree in nursing at University of California in San Francisco; she received her doctorate in nursing practice with an emphasis in healthcare system at University of San Francisco. Dr. Nguyen's research interests are in the areas of neurodevelopmental outcomes in neonates with severe birth asphyxia, learning and teaching strategies to improve the educational and practice gaps for direct-care providers working in the neonatal intensive care area in emerging countries and global nursing in Vietnam, and teaching the highest quality and safest practice in nursing education programs by reinforcing QSEN competencies and high fidelity simulation training in didactic and clinical course work.
Education
DNP, University of San Francisco
MSN, University of California, San Francisco
BSN, Samuel Merritt College
AA, University of California, Berkeley
Additional Information
Publications & Presentations
Selected Peer-Reviewed Publications
Nguyen H, Lund CH.(2007). Exploratory laporatomy or peritoneal drain? Management of bowel perforation in the neonatal intensive care unit. Journal of Perinatology and Neonatology Nursing. Jan-Mar 21(1), 50-60.
Pauly-O'Neill S, Prion S, Nguyen H (2013). Comparison of quality and safety education for nurses (QSEN)- Related student experiences during pediatric clinical and simulation. Journal of Nursing Education.52(9): 534-538.
Invited Lectures/Presentations
Family Health Nursing Course N341 and Medical-Surgical: Nursing Care of Children Course N420: University of San Francisco SONHP
Maternity Newborn and Child Health in Emerging Countries, October 18th, 2011, Speaker Series, Committee on Children and Youth.
Pediatric Assessment Lecture. March 2009. Bach Mai hospital And School of Nursing, Thanh Nhan School of Nursing, Hanoi, Vietnam
Neonatal Resuscitation Education. March & November 2010. Neonatal Intensive Care Unit, Bach Mai Hospital, Hanoi, Vietnam
Conference Presentations
8th Annual Magic in Teaching Conference 2012. 20/20 Vision: Nursing Education for 2020. November 14, 2012 South San Francisco, California
Committee Memberships
Member, Children and Youth Committee, University of San Francisco since 2011
Member, Academic Standards Committee, University of San Francisco since 2009
Chair of Academic Standards Committee, newly elected in 2012
Lead Faculty in the Women's Health and Pediatrics BSN department since 2009
Faculty Resource for new faculty in the SONHP since 2009
Involve in the development of the combined Pediatric and Women's Health clinical course for Senior I in the BSN department.
Advisor for the Vietnamese Students Association at USF since 2012
Community Involvement
1986-Present Asian Health Clinic, Oakland CA
2009-2011 Project Vietnam & Breath of Life, Children'''s Hospital Oakland
2008-2011 Vietnam Nurse Project, University of San Francisco