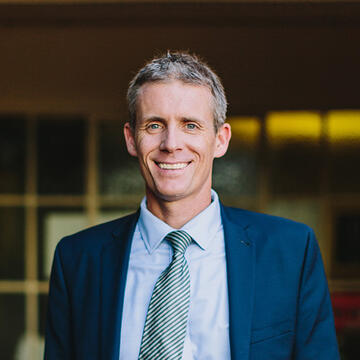 Christopher Thomas
Associate Professor, Leadership Studies
Biography
Named California's Professor of Education of the Year in 2010 by the Association of California School Administrators (ACSA), Dr. Thomas' most recent work focuses on embedding equity conscious practices into principal evaluation tools and policies and the development of community based partnerships. The underlying focus of his teaching and research is to develop social justice leaders that can serve the students of today and tomorrow. He has also been nationally involved with the Carnegie Project on the Education Doctorate (CPED) to redesign the educational doctorate and with Leaders for Today and Tomorrow, sponsored by the Institute for Educational Leadership (IEL) that is identifying and developing policies and practices to better prepare and support educational leaders.
Dr. Thomas served as Associate Dean for Strategy, Assessment, and Impact from Fall 2014 – Fall 2015. Dr. Thomas served as Chair of the Department of Leadership Studies from Fall 2009 – Spring 2014. Prior to entering higher education he served as a teacher and school leader for 10 years in California and Wisconsin.
Research Areas
Urban education
K-12 administration
Instructional leadership
Special education
Family and community involvement
Education
PhD, Educational Leadership and Policy Analysis, University of Wisconsin
Selected Publications
Thomas, C. & Kearney, K. (2010). Effective principal support: What will it take? Leadership, 40(2), 8-11.

Borrero, N., Oh, K., & Thomas, C. (2009). Does service count for tenure? Conversations on Jesuit Higher Education, 35, 38-40.

Halverson, R., Grigg, J., Prichett, R., & Thomas, C. (2007). The new instructional leadership: Creating data-driven instructional systems in schools. Journal of School Leadership, 17(2), 159-194.

Halverson, R. & Thomas, C. (2007). The roles and practices of student services staff as data driven instructional leaders. In M. Mangin and S. Stoelinga (Eds.) Instructional teachers leadership roles: Using research to inform and reform (pp. 163-182). Teachers College Press: New York.