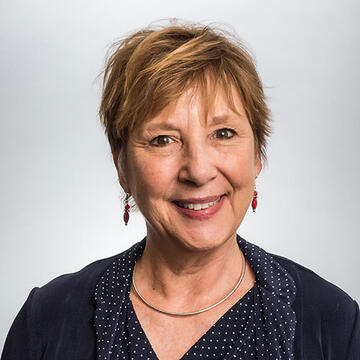 Candace Campbell, DNP, RN, CNL, CEP, FNAP
Assistant Professor
Biography
Candace (Candy) Campbell is a committed and experienced academic leader serving as Professor of Nursing at the University of San Francisco. She provides leadership in research, education, and service as a valued contributor to the School of Nursing and Health Professions. She serves the university and community by developing and delivering presentations in connection with advanced interprofessional communication techniques in healthcare and education. Dr. Campbell demonstrates a passion for teaching, collaborating, developing communities of practice, and establishing evidence-based outcomes for learning and healthcare technologies. She is an international speaker, award-winning actor, author, and filmmaker.
Research and Other Interests:
Dr. Campbell's research interests include public health policy, clinical topics within the maternal-child arena, as well as the educational application of simulation and medical improv. Candy's nursing career (of nearly 40 years) spans many specialties, including psych, ICU/CCU, LD, home health, and NICU. She has been an educator in every hospital she ever worked.
This is Dr. Campbell's 10th year as a SON faculty. She enjoys working with students and assisting them in learning research methods in a fun and interesting way.
She leads an active lifestyle that includes swimming, painting, and performing her third solo show, Florence Nightingale-Live!
Research Areas
Interprofessional healthcare communication using Applied Improvisational Exercises
Micropremature birth and psychosocial repercussions on the family
PTSD in medical personnel veterans of Vietnam War
Elective Cesarean Delivery
Healthcare Public Policy and Nursing Advocacy
Florence Nightingale and History of the Nursing Profession
Education
DNP, University of San Francisco
MSN-HCSM, Loyola New Orleans
BSN, Loyola New Orleans
AARN, El Camino College
BA, Speech Communication/Theatre, University of Puget Sound
Selected Publications
The following are a list of publications and presentations by Dr. Candace Campbell

Presentations

Applied Improvisational Exercises and IPE/IPC to nursing/interprofessional conferences:
Project Nightingale, Greensboro, NC, April, 2018
Nurses Communication Conference, Walnut Creek, Jan. 2018
NNBA, St. Pete's Beach, Fl, Nov. 2017
STTI, North America, Vancouver BC, July 2017
STTI, Region 1, SF, June 2014
Orthodontists Group, Dublin, CA., July 2014,
ANA/C, Pasadena, CA., Sept. 2014
IMSH, New Orleans, LA, Jan. 2015
NAP, Washington DC, April 2016

Presentation, Grant Writing for Healthcare and Public Policy Programs, at ANA/C 'Lobby Days at the Capitol' nursing conference, April 2015.

Represented USF and AWHONN as neonatal expert on video Q&A interviews for magazine/website, Health4Moms.org (Oct. 2015 release)

Represented USF as neonatal expert - internet radio/podcast interview for Business Innovator Magazine

Represented USF as nursing expert - http://wallethub.com/edu/best-states-for-nurses/4041/#candace-campbell

Represented USF as neonatal expert on ABC news interview (nationwide coverage) Oct. 2015- http://abc7news.com/news/newborn-given-to-wrong-mom;-i-team-investigates-hospital/394844/

Represented ANA/C as nursing policy expert in print and voice-over PSA radio announcement, Sept - Oct. 2014

Represented USF and ANA/C as nursing policy expert/advocate at Lobby Days in Sacramento, April 2015; and in Washington D.C. in July, 2015.

Books

2018 – Improv to Improve Healthcare: A System for Creative Problem Solving

2016 - My Mom Is A Nurse, (Japanese version) Peripatetic Publishing

2015 - Channeling Florence Nightingale: Integrity, Insight, Innovation,

2015- My Grandma Is A Nurse, Peripatetic Publishing

2013 - Mi Mama Est Una Enfermera, Peripatetic Publishing

2009 - My Mom Is A Nurse, Peripatetic Publishing (Amazon best-seller in two categories of children's book)

2009 - Good Things Come In Small Packages (I Was A Preemie), Peripatetic Publishing,

Books: Contributing author

The Medical Improv Primer:15 Activities You Can Teach STAT! by Beth Boynton RN, MS. (Jan. 2017). ASIN: B071DTVWS8

Contributing author, Nursing Process and Critical Thinking (6th Edition) by Judith M. Wilkinson Ph.D. A.R.N.P., F.W. Davis Publisher, (Feb. 2017).

Contributing author, Successful Nurse Communication: Safe Care, Healthy Workplaces & Rewarding Careers, by Beth Boynton RN, MS; F.W. Davis, Publisher, Sept. 2015. ISBN-13: 978-0803639454

Articles

2016 (Jan/Feb) : What Keeps You Awake At Night? (February–March, 2017) Nursing for Women's Health, Blackwell Publishing, 21(1), 72-71. DOI: 0.1016/j.nwh.2016.12.006

2014 (May):Interprofessional Communication and Teambuilding Using Applied Improvisational Exercises, Creative Nursing; 20(2). DOI:10.1891/1078-4535.20.2.116

2014 (September): My Baby's Head is Flat, Healthy Mom and Baby, http://www.health4mom.org/my-babys-head-is-flat/

2014 (September): NICU Survival 101, Healthy Mom and Baby, http://www.health4mom.org/how-to-survive-nicu

2011 (Aug/Sept issue): Elective Cesarean Delivery: Trends, Evidence and Implications for Women, Newborns and Nurses [Continuing Nurses Education course] in Nursing for Women's Health, Volume 15, Issue 4, 308–319, Blackwell Publishing.

2010:[all published in Healthy Mom & Baby magazine and Health4Mom.org], Blackwell Publishing
Bathing Your Preemie;Bringing Baby Home; Taking Your Preemie Home; Newborn Skincare 101; Premature Birth: Luck, Lottery, or Life Choices?

2009:Sing to Your Baby; published in Healthy Mom & Baby magazine and Health4Mom.org];by Blackwell Publishing

2009 - present The Preemie Post, an online blog & podcasts available at candythenurse.com

Video Series

Seven Common Errors Healthcare Leaders Make in Their Presentations, Peripatetic Publishing (free on website)

Film

Micropremature Babies: How Low Can You Go? [Educational distribution 2005-2007, Aquarius Medical Media; 2007 - present by Peripatetic Productions through Amazon.com. ]
Additional Information
Professional Organizations and Community Service
Service to the Profession
ANA/C's Public Policy Committee, since 2017
BOD Interim President, Golden State Nursing Foundation.
ANA/C's Internal auditing Committee (annual internal financial audit, since 2012).
ANA/C's Legislative Committee. (Advocated in Sacramento and DC for specific bills when called/inspired to speak as HC or subject expert.)
AWHONN's Editorial Advisory Board of for one journal and one magazine (since 2012).
Service to the Community
Pres. Elect/Treasurer, National Speaker's Association, Northern CA,
Ambassador Committee, Chamber of Commerce, Walnut Creek, CA
California Women Lead, grassroots election campaign, advisory capacity
BOD, East Bay Options - Pregnancy Counseling and Medical Clinic 2010-2017
BOD, National Speakers Association, Northern CA 2015-present
Speakers Bureau, March of Dimes of Northern CA, 2005-200
Co-Lead, Single Mom's Fellowship, Northcreek Church, 2005- present
---
Organizations, Awards, Appointments
2017 – Appointed to Women's Health Advisory Board for California Assembly Woman Catharine Baker
2015-present: Elected, National Speakers Association (NSA), Northern CA chapter, Board of Directors (now President:elect 2018:19)
2015: Elected to Distinguished Fellowship in the National Academies of Practice (NAP)
2015: 2016:Elected Representative, 2015 ANA Membership Assembly, Wash. DC
2015: Spokesperson, ANA/C, [radio ad against Prop 45]
2014: Member, Association of Clinical Nurse Leaders (ACNL)
2013: Appointed, STTI, UN Advisory Council on Nursing and Public Policy
2012: Elected Delegate, ANA House of Delegates, Wash. DC
2012-2013: Awarded Public Policy Fellowship: ANA Advocacy Institute, Wash. DC
2011-2017: Appointed, Board of Directors, Options For Women of California
2011-present: Inducted, National Speakers Association (NSA)
2010-present, Appointed, ANA\C Legislative Action Committee
2010: Member, Society of Children's Books Writers and Illustrators (SCBWI)
2010-present: Appointed, Editorial Advisory Board, Association of Women's Health, Obstetric and Neonatal Nursing (AWHONN)
2010 – Member, National Assoc. of Neonatal Nurses (NANN)
2010 – Member, American College of Healthcare Executives (ACHE)
2009: Appointed, Media Spokesperson, The March of Dimes, Northern California
2008: 2012: Appointed, Speaker's Bureau, John Muir Health Systems
2008: Member, American Nurses Association (ANA)
2005: Inducted, American Federation of Television and Radio Artists (AFTRA, later SAG/AFTRA)
2003: Awarded, International Medical Media Award, for documentary film, Micropremature Babies:How Low Can You Go?
2003:Awarded, WYSIWYG Film Festival Award (acting), "Most Inspirational Moment", (film, The Calling)
2002: American Screenwriter's Association (ASA)
2002:Independent Film Producers (IFP)
2002-2003: Grantee, (Gifts in Kind)Film Arts Foundation (FAF)
1999: Inducted, American Society of Composers, Authors, Publishers (ASCAP)
1999: Member, Academy of Neonatal Nurses (ANN)
1999: 2005: Awarded, Bay Area Video Coalition (BAVC) Sponsorship
1991: 1994: Member, American Society of Portrait Artists (ASOPA)
1986-1992: Various awards in photography, painting (competitions throughout southern California) 
1977-1979:Editor, Student Nurses Association of CA (SNAC, now NSA) paper, The Range of Motion
1976-1979 : President,El Camino CollegeChapter, SNAC
1970: Awarded, MVP Award:Speech/Drama Dept., University of Puget Sound