Taste of Control: Food and The Filipino Colonial Mentality Under American Rule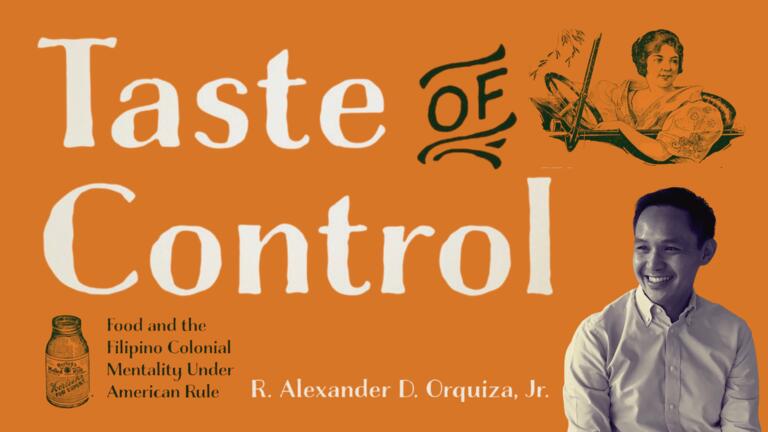 The USF Center for Asia Pacific Studies welcomes Professor Alex Orquiza to discuss his book, Taste of Control: Food and the Filipino Colonial Mentality Under American Rule (Rutgers University Press 2020), which details how the American empire tried to change Filipino cuisine from the ground up, but Filipinos resisted.
Filipino cuisine is a delicious fusion of foreign influences, adopted and transformed into a unique flavor. But Americans who colonized the islands in the 1890s considered it inferior and lacking in nutrition, the food of racially inferior people. Changing Filipino cuisine was part of their effort to Americanize Philippine society. Orquiza's book analyzes what happened when Americans attempted to change what Filipinos ate, how they cooked, and how they thought about their cuisine. The book draws from letters, travel guides, restaurant menus, cookbooks, school textbooks, and advertisements to reveal the dynamic food culture of the Philippines in the early-1900s. It also shows how despite these attempts, many Filipinos were hesitant to change. These food debates resonate today. Filipino cuisine still struggles for popularity in the US even though Filipinos are the third-largest Asian American population in the US. The history of how Americans tried to change Filipino cuisine remains an unpleasant reminder of a story most Americans would rather forget—the forty-eight years when the US ruled the Philippines.
Alex Orquiza is an associate professor in the Department of History and Classics at Providence College. A historian of 20th-century American race, empire, and popular culture, he recently published his first book, Taste of Control: Food and the Filipino Colonial Mentality Under American Rule (Rutgers University Press 2020) and is currently working on his second book, which examines how American popular culture commemorated American empire in music, architecture, literature, sports, food, and teaching. His research on the intersections of modern food culture, the media, and education has been published in the journals Food and Foodways and Asia Pacific Perspectives as well as Eating Asian America (NYU Press 2013). He has contributed essays on Filipino cuisine in New York City in Savoring Gotham: A Food Lover's Companion to New York City (Oxford Univerisity Press 2015) and on the creation of the contemporary Philippine food system in Acquired Tastes: Stories about the Origins of Modern Food (MIT University Press forthcoming). Professor Orquiza received his Ph.D. from The Johns Hopkins University and his work has been supported by the Fulbright Program, the Andrew W. Mellon Foundation, and the W.M. Keck Foundation. You can follow him on Instagram at @RAOrquiza
Free and open to the public. Registration required.
Community Partners: MA in Asia Pacific Studies, Yuchengco Philippine Studies Program