"Punished for Dreaming: How School Reform Harms Black Children and How We Heal" Bettina L. Love in Conversation with Farima Pour-Khorshid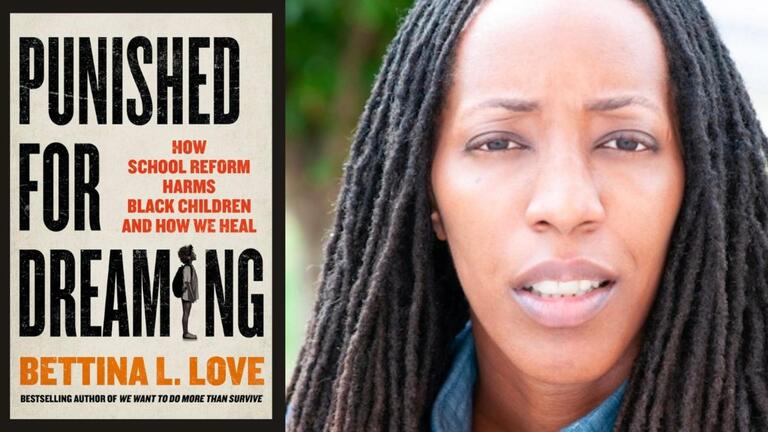 Join us for a thought-provoking and transformative conversation as we delve into the powerful themes of education, equity, and liberation with two influential voices in the field. In "Punished for Dreaming: How School Reform Harms Black Children and How We Heal," author Dr. Bettina L. Love confronts the pressing issue of how current school reform practices disproportionately impact Black children, perpetuating systemic inequities and stifling their dreams. This event offers a unique opportunity to engage with Love as she discusses her groundbreaking book, offering insights into the profound consequences of punitive educational approaches and suggesting pathways towards healing and empowerment.
🗣️Dr. Bettina Love is the William F. Russell Professor at Teachers College, Columbia University and the bestselling author of We Want To Do More Than Survive.  In 2022, the Kennedy Center named Dr. Love one of the Next 50 Leaders making the world more inspired, inclusive, and compassionate.  Dr. Love is co-founder of Abolitionist Teaching Network (ATN), whose mission is to develop and support teachers and parents fighting injustice within their schools and communities, and which has granted over $250,000 to abolitionists around the country.  She is also a founding member of the Task Force that launched the program In Her Hands, distributing more than $15 million to Black women living in Georgia. In Her Hands is one of the largest guaranteed income pilot programs in the U.S. You can preorder her new book Punished for Dreaming: How School Reform Harms Black Children and How We Heal wherever books are sold.
🗣️Dr. Farima Pour-Khorshid is a proud Bay Area educator-organizer-scholar. She has taught at the elementary grade level as well as at the university level for over a decade, she has also supervised pre-service teachers, and facilitated teacher development workshops throughout California and the Atlantic coast of Nicaragua where her family emigrated from and where she lived between 2010-2012. She graduated with her Masters degree and Ph.D. at the University of California, Santa Cruz and is currently an assistant professor and teacher supervisor at the University of San Francisco. She holds leadership roles in the Teachers 4 Social Justice organization (www.T4SJ.org), the People's Education Movement-Bay Area, the national Education for Liberation Network (www.edliberation.org) and the Radical Healing Team at Flourish Agenda (www.flourishagenda.com). Her research interests and areas of expertise include critical professional development, grassroots social justice teacher organizing, healing centered engagement and critical racial affinity group approaches to support educators within the field.
Presented by the USF School of Education Center for Humanizing Education & Research (C-HER)