Law Review Symposium 2023: The Future of Prosecution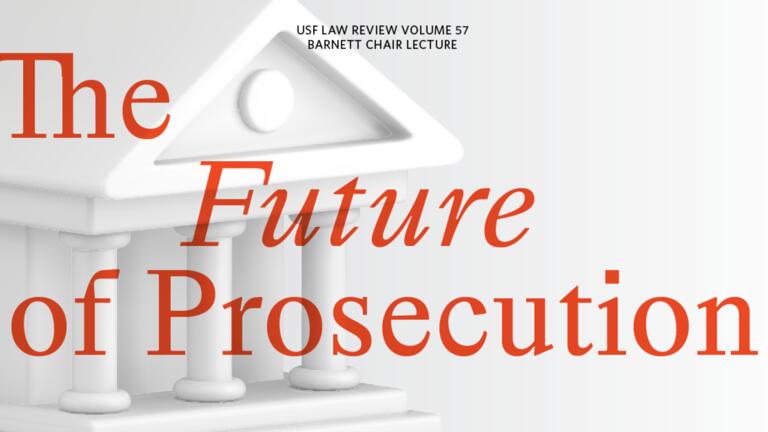 From the pages of law reviews to the evening news, the role of the prosecutor has become a divisive issue. What is a prosecutor's obligation to justice? Should it include mitigating, or even addressing, racial and socioeconomic inequity? How should this obligation be balanced against community expectations of safety and retribution? In our polarized political climate, it is all the more important that we have a robust debate in which all viewpoints are represented and considered.
Join us for a lively discussion featuring a diverse spectrum of district attorneys ranging from traditional, progressive, and everything in between.
Reception to follow.
Registration and Continental Breakfast
8:30 a.m.
Welcome Remarks
9:00 - 9:15am
Panel 1- Deterrence, Justice, and Community Safety
9:15-10:45 a.m.
A prosecutor's most base power is to seek the punishment of an individual for criminal acts, yet today this core function is hotly debated.  How should this power to deprive one of their freedom be exercised? Is deterrence an effective, or even necessary, tool in preventing crime? And if so, in what circumstances does the moral necessity of parity and justice outweigh societal expectations of retribution?  This panel will feature a mix of prosecutors, both reform and traditional, who will discuss the practices of their office surrounding charging, plea bargaining, and diversion, as well as how these decisions contribute to a safer, more just society.  Panelists will discuss the observed effects of their policies in the present and the anticipated future effects of their policies, as well as how they view their more political role in ensuring public safety.  
Moderator:
Katie Moran '16 Associate Professor and Co-Director of ABES University of San Francisco School of Law
Panelists:
District Attorney Diana Becton Contra Costa County
District Attorney George Gascón Los Angeles County District Attorney's Office
District Attorney Brooke Jenkins San Francisco District Attorney's Office
District Attorney-elect Pamela Price Alameda County District Attorney's Office
District Attorney Steve Wagstaffe San Mateo County
Panel 2 - Wrongful Convictions and the Adversarial Prosecutor
11:00 - 12:30 p.m.
Traditionally, our adversarial system of trial presupposes that prosecutors must zealously seek a guilty verdict and pursue the maximum possible charges.  How should prosecutors approach truth and justice in the courtroom? How does this, sometimes competitive, adversarial relationship square with our notions of equal justice under the law?  While juries are the ultimate arbiters of innocence, what is a prosecutor's duty to avoid wrongful convictions? This panel will feature a mix of prosecutors, both traditional and reform, who will discuss their approaches in charging up or down, seeking higher or lower sentences, and how they ultimately perceive their role in the deliverance of justice.  Panelists will also discuss how externalities to the deliverance of justice such as racially biased policing, wrongful confessions, both police and prosecutorial misconduct, and laws intended to target specific communities affect their approach to prosecution. 
Moderator:
Richard Leo Hamill Family Chair Professor of Law and Social Psychology University of San Francisco School of Law
Panelists:
District Attorney-elect Thienvu Ho Sacramento County
District Attorney Cassandra Jenecke '13 Tuolumne County
Laurie Levenson Professor of Law and John Lewis Chair for Civil Rights and Social Justice Loyola Law School
Lunch
12:30 - 1:15 p.m.
Keynote Address by Kim Foxx
1:15 - 2:15 p.m.
Keynote Speaker:
Kim Foxx State Attorney Cook County State Attorney's Office
Panel 3: Yutico Briley's Singular Legal Odyssey and Collaborative Exoneration
2:30-4:00 p.m.
When Yutico Briley was 19, he was arrested on a street in New Orleans where he was walking with friends and brought to a downtown police station.  A white man who had been robbed at gunpoint in the near darkness 18 hours earlier was sitting in a police car twenty feet away.  The police forced Yutico, who is Black, to stand in the car's headlights.  The man identified Yutico and he was charged with armed robbery.  Yutico had an alibi--he was 8 miles away at a hotel with a friend when the crime occurred.  But his lawyers did not present that evidence or any defense at all.  After a trial that lasted less than three hours, Yutico was convicted and sentenced to 60 years to life with no possibility of parole. Eight years later, in 2019, Yutico heard the New York Times Magazine journalist Emily Bazelon on NPR discussing her new book CHARGED, which examined how a new generation of "progressive prosecutors" had come to power and were reforming the system.  Yutico wrote Emily a letter asking, "Can you please help me get out of prison?"  Emily asked her sister, Lara, if the University of San Francisco Racial Justice Clinic would take Yutico's case.  They did.  At first, even though the evidence of Yutico's innocence was clear, the Orleans Parish District Attorney's Office fought his release.  But then in the winter of 2020, a progressive prosecutor named Jason Williams was elected Orleans Parish DA.  He started a Civil Rights Unit and appointed Emily Maw, the former director of the Innocence Project of New Orleans, to run it.  Yutico's case was the first she examined in her new role.  In March 2021, through a collaborative effort between the Orleans Parish DA and the USF Racial Justice Clinic, Yutico was exonerated following a ruling by judge Angel Harris, who had also recently won election to the bench on a reform platform.  In July 2021, Emily Bazelon told the story of Yutico's singular legal odyssey in a cover story for the New York Times Magazine.  In this panel, Yutico Briley, Emily Bazelon, Emily Maw, and RJC student Laura Odujinrin will talk about how it all happened.  Lara Bazelon will moderate.
Moderators:
Lara Bazelon Phillip and Muriel C. Barnett Chair in Trial Advocacy; Director of the Criminal and Juvenile Justice and Racial Justice Clinics and Associate Dean for Faculty Scholarship University of San Francisco School of Law
Emily Bazelon Staff Writer New York Times Magazine
Yutico Briley Exoneree
Laura Odujinrin '22 Associate Wilson Sonsini Goordich and Rosati
MCLE Credits:
Earn up to 5.5 hours of CLE credit.* 1.5 hours of MCLE credit is available for each panel attended. 
Questions? Email Kenji Quijano or call (415) 422-5896.
Sponsors:
Special thanks to the Blaine family for their support.
Special thanks to ReedSmith for their sponsorship.
*This activity has been approved for Minimum Continuing Legal Education credit by the State Bar of California in the amount of 5.5 credit hours. The University of San Francisco School of Law is an approved provider of MCLE and certifies that this activity conforms to the standards for approved educational activities prescribed by the rules and regulations of the State Bar of California governing minimum continuing legal education.