3rd Annual Chase Center Takeover Doubleheader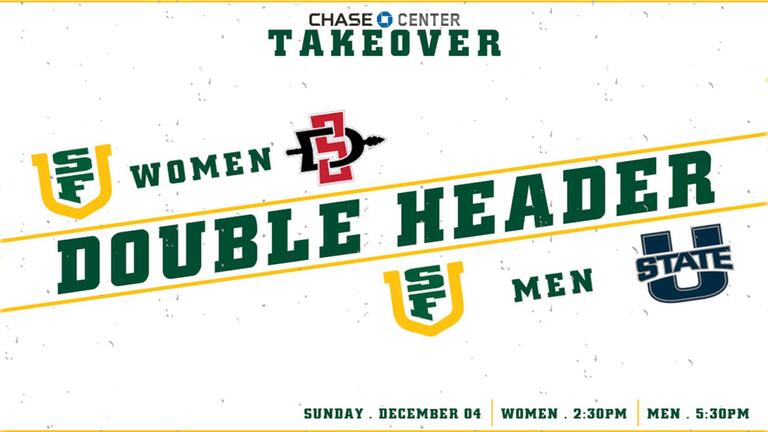 The Dons are headed back to Mission Bay for the third annual Chase Center Takeover Doubleheader on Sunday, Dec. 4, 2022. USF brings to the table two of the top names in Mountain West Conference basketball. The women's team is set to battle the Aztecs of San Diego State at 2:30 p.m., while the men stage a neutral court-ranking game against Coach Ryan Odom's Utah State Aggies at 5:30 p.m. 
Experience two great matchups and the magic of the Chase Center for as low as $15 a ticket! 
Please note that all ticket purchases and services are fulfilled by the Chase Center Arena box office. For issues with your tickets or any customer service needs, contact the box office via email or by calling (888) 479-4667.
STUDENTS: Access your special price for behind-the-basket tickets!
Calling all University of San Francisco students! We have reserved some of the best seats in the Chase Center at a special price just for you. Click here to access the discount in the Chase Center's ticket portal, where you can purchase your tickets to the best venue in the NBA for just $7.50 a ticket! Want to bring your friends and family? No problem. Students can purchase tickets for guests to join the action as well. On top of including both the women's game at 2:30 p.m. and the men's game at 5:30 p.m., your ticket gives you access to ride the San Francisco Muni for free and attend the Student Leadership and Engagement reception between the games.
The reception will begin toward the conclusion of the women's game and continue until tip off of the men's game. The reception is sponsored by the Graduate Student Senate, the ASUSF Senate, and the Campus Activities Board, and will feature complimentary light food, music, giveaways, and as always, good vibes.
The Chase Center won't be the same without you! Once again, this exclusive offer is only for USF students. Click here to access the discount in the Chase Center's ticket portal. When creating an account, enter your @dons.usfca.edu email to be confirmed as a USF student. Buyers whose emails are not affiliated with USF are subject to cancelation of their purchase without refund.