2023 Global Women's Rights Forum - Day 2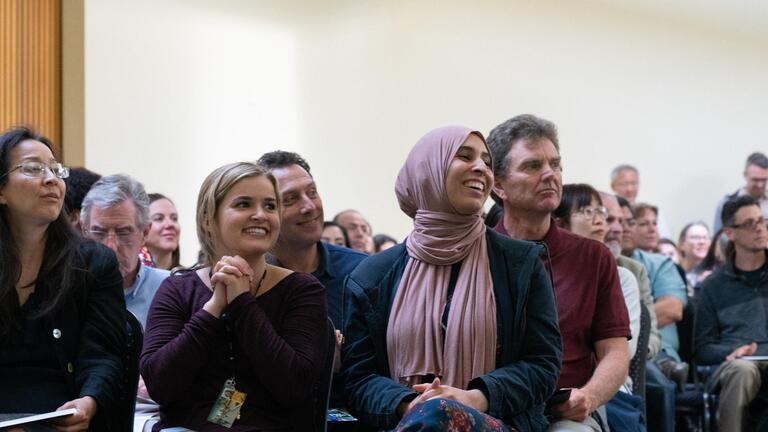 Wednesday, March 8, 9:15-10:20 AND 10:30-11:35
Thacher Gallery, Gleeson Library/Geschke Center
Art, A Tool for Creating the Future (Art Installation & Performance with Rivka Louissaint and Students): Visit the temporary art displays and performances by USF student artists to explore the intersection of gender identity with activism around systemic change for social, racial, and environmental justice. The pop-up exhibition will include visual and performance art, poetry, and spoken word. A key component of the exhibition will be an invitation for visitors/participants to engage with a hands-on artmaking project and/or performance.
Wednesday, March 8, 11:45-12:50
In-Person, McLaren Lobby
Car Trunk: A Multimodal Migration (Installation + Artist Talk with Melisa Garcia): This talk will include an exhibition called "Car Trunk: A Multimodal Migration". The exhibition is the reconstruction of a car trunk where my mother, as a young child, migrated to the United States inside of a car trunk. The installation utilizes multimodality, testimonio, art, and storytelling to reconstruct the memory and experience of her journey to the United States in the late 1970's when she escaped the civil war in El Salvador. The installation is a full size car trunk that was welded together with sheet metal and other car parts. 
Other parts of the installation that are multimodal include having participants connect with installation via QR codes that they will be able to scan and engage with reading poetry, listening to music, watching videos that surround the cultural and historical nature of the story and memory of the event that my mother went through. The participants will be asked to have headphones to be fully immersed in the experience. Participants will also be able to touch the trunk and be submerged with the "reconstruction as storytelling" aspect of the trunk. Moreover, the participants will also be asked to participate by sharing their reaction, experience via social media (i.e. Twitter, Instagram).
The goals for this exhibit/installation is to have participants engage in multimodal art and communication that allows them to think critically about child migrant experiences. By sharing my mother's experience and presenting it as a multimodal installation the story becomes alive. The goal here is to have stories known, shared, and experienced that would otherwise go unheard. I hope that participants can take this story and connect it through different layers and As well, to understand the migration stories of Central American people and that those migrations are caused by wars, violence, and poverty that results in migration.
Melisa Garcia is a Renewable Term Assistant Professor at the University of San Francisco in the department of Rhetoric and Language. Some of her research interests are on linguistic justice, use of alternative discourses and inclusion of BIPOC community discourses that otherwise would go unnoticed. She also focuses on the rhetoric that shapes Central American immigrants and the Central American diaspora. 
Wednesday, March 8, 2:15-3:20 AND 3:30-4:35
In-Person, McLaren 252
Feminist Essay Readings (Readings + Q&A): An opportunity to hear a diverse group of writers share personal reflective essays that engage with the topics of gender, sex, and race.