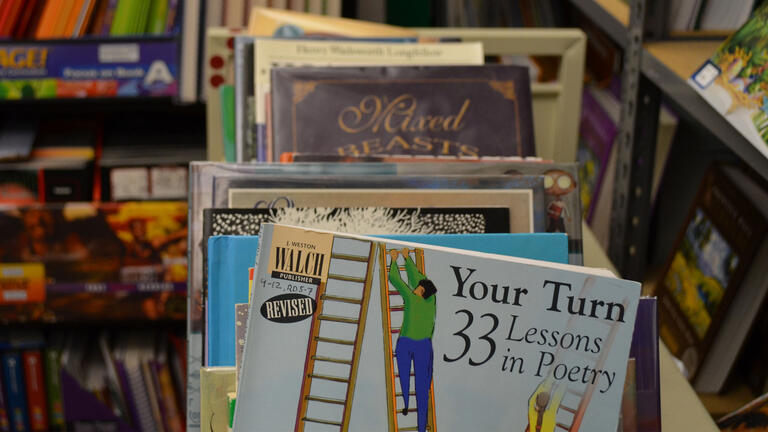 Curriculum Resource Center
The School of Education's Curriculum Resource Center houses a collection of educational reference materials and curriculum aids for K-12 grades, multicultural, English language learners and Spanish speakers.
The Commons/Resource Center's Hours
Monday and Friday: 9 a.m. – 5 p.m.
Tuesday, Wednesday, and Thursday: 9 a.m. – 7 p.m.
Saturday (Teaching Weekend Only): 7:30 a.m. – 1:30 p.m.
Access to the Center
The Center is open to all in the USF community; however, full borrowing privileges are restricted to students and faculty in the School of Education. A current picture ID card and ID number is necessary for checking out materials.
Collections
Supports all subjects taught in a regular and special education classroom, K-12, in the State of California.
CA State Adopted Basal Readers
Juvenile Literature: Fiction and non-fiction, award, bilingual, biographies, chapter, decodable, drama, folklore, historical, level, low level/high interests, mathematics-literature, multicultural, poetry, science-literature, Spanish, the arts, and general books.
Curriculum Aids: Hands-on manipulative materials for language arts, mathematics, science, and music.
Educational Diagnostic Assessments and Test Preparation
English Language Learners: Theory materials, textbooks, and workbooks.
Teacher Resource Books: Supplementary resources for lessons and unit planning, hands-on activities, and theory books in the areas of art/music, environmental studies health, history/social sciences, language arts, mathematics, multicultural, science, service learning, special education, study skills, physical education and political/economics/global studies.
Theory Books: Administration, alternative education, behavior management, childhood development, civil rights, curriculum, cooperative/group work, emigration and immigration, environmental issues, gender issues, Hip Hop, intelligence, mentoring, multicultural, mentoring, pedagogy, philosophy, portfolios, psychology, research, school reform, service learning, social-emotional learning, women's studies, and general books.
Videos: Instructional and theory materials in DVD format.
Special Collections
The Center's Special Collections in Education highlight the School of Education Mission and includes:
Social Justice
Human Rights
Multicultural Education
Peace Education
Spanish Literature