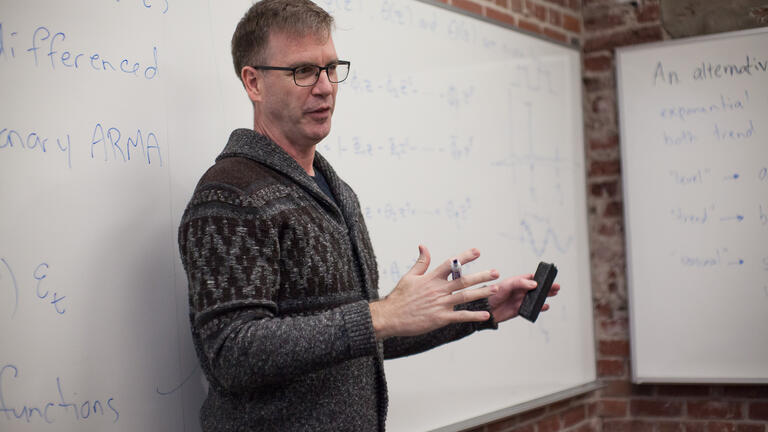 DATA INSTITUTE
Center for Applied Data Ethics
At the Center for Applied Data Ethics (CADE), we are working to address ethical issues such as the magnification of unjust bias, increased surveillance, spread of disinformation, alarming uses of predictive policing, a lack of accountability for tech companies, and more. Our focus is on having a direct, practical impact. Our inaugural year is funded by a generous donation from Craig Newmark (founder of Craigslist). Our work includes a mix of education, research, public policy, and civil advocacy.
Education
Data Ethics Seminar Series
We bring in experts on issues of data ethics in talks open to the community. All seminars will be held online through June 2022. High-quality recordings of the talks can be found on our YouTube Channel.
Data Ethics Certificate Course
You do not need to be a USF student to attend evening certificate courses at the Data Institute in downtown SF. The Intro to Data Ethics course will explore urgent issues of bias, fairness, and surveillance, as well as disinformation. This course is generally offered annually in the Spring semester.
Staff
Ali Alkhatib is a social computing researcher trained in Computer Science and Anthropology. His research explores how people relate to artificial intelligence and technology broadly, and attempts to situate those relationships in historical backdrops and ontological foundations using scholarship from the social sciences. Ali studied Computer Science at Stanford and earned a BA in Anthropology & BS in Informatics from UC Irvine.
2020 Fellows
Razvan Amironesei was most recently a visiting scholar in the Department of Philosophy at the University of California, San Diego, where he chaired a multicampus faculty research group on algorithms and politics. His PhD dissertation in philosophy was devoted to the relationship between biopower and the concept of life, where he engaged with a sociological and theoretical analysis of Human-computer interaction technologies, in particular the question of brain surveillance.
Nana Young is a global health bioethicist. Her research interests include ethical implications of disruptive technology, algorithmic justice, and harnessing the power of artificial intelligence to drive ethical, sustainable development in low and middle-income countries. Nana has an MA in Bioethics and Science Policy from Duke University and a BA in sociology from Princeton.
Ali Alkhatib was a Data Ethics Fellow in 2020/2021 and is currently serving as Interim Director for the Center for Applied Data Ethics.