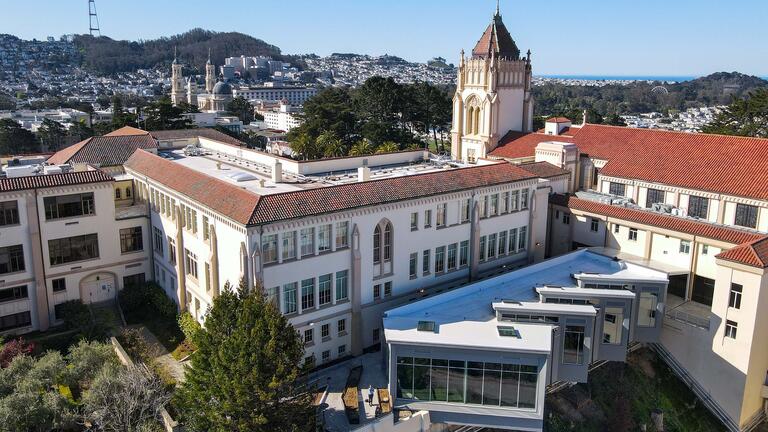 Emergency Medical Response
Operations Temporarily Suspended
Due to University compliance with San Francisco's COVID-19 Shelter-in-place mandate - USF's Emergency Medical Response Services (EMRS) have temporarily suspended operations. If you have any questions regarding the program, please contact Public Safety Dispatch at 415-422-4201 or dispatcher@usfca.edu.
---
The University of San Francisco Emergency Medical Response Service (EMRS) helps build the foundation for a community committed to health and safety, one emergency at a time.
Our free emergency response service is staffed entirely by USF students who are certified emergency medical technicians (EMT) on our squad.
EMRS provides medical coverage on weekends to USF's main campus, Friday, and Saturday from 7 p.m. to 7 a.m. and Monday from 7 a.m. to 7 p.m. EMRS will rapidly respond when dispatched. Our scope of practice includes the evaluation of the ill and injured in the prehospital setting. EMTs also use various equipment to transport patients and assist other prehospital personnel when indicated.
The EMRS team also offers life support for healthcare providers and American Heart Association Heartsaver® courses to individuals and USF departments. The skills you'll acquire in these classes will prepare you for a lifetime of basic emergency assistance.
EMRS services USF's main campus. Buildings and grounds serviced include:
West: Stanyan Street (back of Koret)
East: Masonic Street (bottom of the baseball field) and Office of Contracts and Grants and McCarthy Center Building
North: Loyola Village
South: Back of the law school
We are also responsible for the sidewalks that adjoin our buildings.