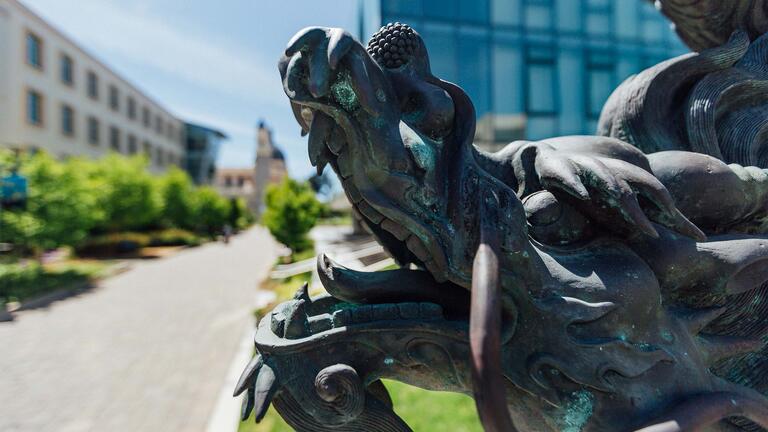 CENTER FOR ASIA PACIFIC STUDIES
Undergraduate Fellowships
The Center for Asia Pacific Studies' merit-based Asia Bridge Junior Fellowship for undergraduates provides outstanding students with the opportunity to engage with the center and Asia.
This program is designed to create a community of young scholars studying Asia at USF and to teach them valuable skills that will help them succeed in today's increasingly globalized world. Junior fellows will emerge from the year long program with skills that will help them succeed in their future careers.
Benefits
Research workshops on conducting research, data analysis, writing, and public speaking
Mentoring from academics in the field of Asia Pacific studies through office hours and workshops
Produce a 12-15 page paper to use as a writing sample for future employment and graduate school applications
Community building events to interact with students and scholars with similar interests
Membership on the Center for Asia Pacific Studies Student Events Committee and event management experience from planning one event per semester with the committee
$500 award for those who complete all of the requirements for the program
Application Deadline: Closed for 2021-22
Eligibility
Applicants must be a current USF undergraduate entering sophomore, junior, or senior year.
How to Apply
Submit a copy of the following to centerasiapacific@usfca.edu:
Resume
Include your major and expected date of graduation.
Cover letter
Explain your interest in the program and the topic you would like to learn more about through your research.
Current Junior Fellows
Reinier Bautista, 2022-2023

Qiyue Chen, 2022-2023

Cindy Hoang, 2022-2023

Corina Mong, 2022-2023

John Sieber, 2022-2023

Zhirui Wang, 2022-2023
Former Junior Fellows
Celeste Baird, 2021-2022
Eshita Kalidindi, 2021-2022
Sally Yang, 2021-2022
Madison Burk, 2020-2021
Emily Chang, 2020-2021
Frances Eusebio, 2020-2021
Natalie Ortez-Arevalo, 2020-2021
Sunshine Joyce Batasin, 2019-2020
Yoogyeong Hwang, 2019-2020
Craig Okahara-Olsen, 2019-2020
Audrey Tran, 2019-2020